IMPORTANT NOTICE - QUEENSWAY CARPARK
It with much regret The Queensway Surgery Car Park will permanently close to patients from 6th November 2023 on Health & Safety grounds. We have in the past two years seen the car park being overused by commuters, people who live locally, people who just want to go shopping and employees of other nearby businesses. There has been no way to manoeuvre once a car has entered and found no space to park and other cars double parking. This results in cars being hit by other cars. We opened the Coleman St entrance open to alleviate the situation, but that made matters worse with people using the car park as a cut through and driving through at speed with near misses involving both staff and patients along with several altercations leading to verbal/physical abuse.
Clinicians arriving for work or returning from home visits almost always have nowhere to park. Two of the staff have had their cars stolen in the past few months.
In making this decision we did take into account how this might effect our less mobile or disabled patients. The nearest point of the Short Street car park is actually marginally closer to the Queensway Surgery front door than the nearest point of the Queensway Surgery car park and there is a Pelican Crossing for safety. The Short Street car park is usually fairly empty but even if that is full there is plenty of other public parking in the vicinity for the able bodied patients.
We are sorry for any inconvenience this may cause but doing nothing was no longer an option.
Download the latest NHS App update.
he NHS App has been redesigned to make it simpler and easier to access NHS services.
Some items have moved within the App, but all the health services you need are still available. Your settings will remain the same before and after the update too.
The new, user-friendly version of the NHS App will start to be available from December 11th, making it easier to:
order repeat prescriptions
book appointments
access 111 Online
view your GP record
and much more…
Need some help using the NHS App? Use the in-app Help feature or visit nhs.uk/nhs-app for guidance.
Who can have the flu vaccine?
The flu vaccine is given free on the NHS to adults who:
are 65 and over (including those who will be 65 by 31 March 2024)
have certain health conditions
are pregnant
are in long-stay residential care
receive a carer's allowance, or are the main carer for an older or disabled person who may be at risk if you get sick
live with someone who is more likely to get a severe infection due to a weakened immune system, such as someone living with HIV, someone who has had a transplant, or is having certain treatments for cancer, lupus or rheumatoid arthritis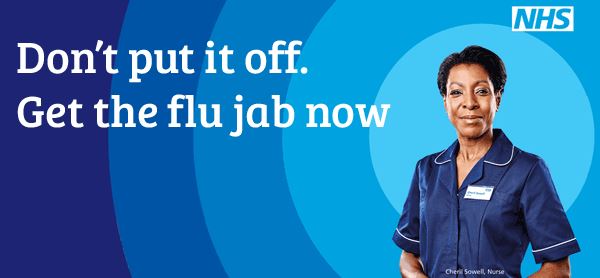 Vision & Values
Vision
To provide the best possible outcomes for our patients in a safe, welcoming, and all-inclusive environment with clinicians and staff that are approachable, respectful, and patient-centred.
Values
Caring Fair Innovative Diverse Accountability Empower
Strategy & Values
We are accountable – we are open and transparent to the people who use our service, and we ensure we take responsibility for our actions.
We are fair - We are consistent in the way we deal with people, both patients and staff, we act courteously, show consideration, compassion and understanding valuing each person as an individual.
We are innovative – We constantly review the service we provide and improve it when and where possible. We use all available resources, including technology to improve the services we provide to patients.
We are caring – patients and their best interests are at the heart of all we do.
We empower – to continually educate & promote healthy lifestyles and behaviours whilst engaging patients in supporting their own care and participating in shared decision making.
We are diverse – We are a cosmopolitan surgery with a diverse workforce which provides us with a wealth of knowledge, variety of perspectives and a better understanding of our community.
Skin cancer & War Pensions
If you have been diagnosed with skin cancer and have served in His majesty's Armed Forces, you may well qualify for a lump sum payment or regular pension, if it is believed that the tumour has developed as a result of sun exposure during your period of service.
Help and support for patients waiting for a hospital appointment or operation
The My Planned Care website supports people waiting for a hospital appointment, operation or treatment, and gives them advice and support while they wait. This includes access to average waiting times at their hospital and other useful advice and local services.
Patients can check the website of their allocated hospital for any information they may need before contacting their hospital or GP practice. Carers, friends, relatives and NHS teams can also see this information and, if needed, help guide people through the detail.
The site is easy-to-use and updated weekly with other advice and information on how to manage pain, keeping healthy, looking after their mental health, accessing financial help and other local support services. The site can also help people to prepare for their appointment or operation, including practical suggestions about how to manage symptoms and help prevent these from getting worse.
Your Information
Queensway Surgery has a legal duty to explain how we use any personal information we collect about you, as a registered patient, at the practice. Staff at this practice maintain records about your health and the treatment you receive in electronic and paper format. You can view our Privicy Policy & GDPR Here
We also now use Text messaging as another communication method. Please read our policy on using SMS. Text Messaging
General Practice Data for Planning and Research (GPDPR)
TO ALL PATIENTS REGISTERED AT QUEENSWAY SURGERY
Queensway Surgery will no longer accept prescription requests through any pharmacy.
This includes blister packed medication.
How do I request my medication?
Download and use the NHS App to order prescriptions. Please ask reception if you need assistance.
Go online at www.queenswaysurgery.co.uk and click on the box "contact us online."
Hand delivers to Queensway in the postbox or reception inside the premises or through the letterbox outside when closed.
Housebound only patients can call the surgery.
With your consent ask relatives to complete a proxy form to request on your behalf and order your requests online.
Where patients are unable to request medication and they do not have relatives or carers to request, the surgery will raise a safeguarding alert with the local team. In these circumstances, please contact the surgery directly.
Why are we changing how to request?
We have in recent months noticed a huge increase in the number of discrepancies and delays when requests are made via the pharmacies, causing distress, confusion and delay for you, the patient. We feel that by patients taking control of their medication and liaising directly with the surgery, we will reduce this confusion and distress.
We thank you for helping us to help you.